How to get cheap custom tailor in Hoi An
Since Hoi An ancient town becomes a popular tourism spot, many services have been developed to meet demands of tourists, including quick and low-cost tailoring. It is now a heaven for fashion lovers with more than 400 tailor shops. They are selling skirts, dresses, shirts, suits, áo dài (Vietnamese traditional dress) and wool.
Tourists prefer to have clothes tailored in Hoi An because of skilled tailors, high-quality materials, quick service and fair prices. They can receive a dress or a skirt in three or four hours after owners of tailor shops receive their orders. Or they can send their size, and requirement on fabrics and styles to the shops' emails, and go there to take their clothes when they arrive in the town.
If you plan a trip to Hoi An and desire to have tailoring experience, please bear in mind the following tips:
Know exactly what you want and how much you can spend-  How to get cheap custom tailor in Hoi An
You will only talk with salespersons of the shops because tailors do not speak English. They will take your orders and send them to tailors working in another room. Therefore, you had better print out photos, draw images, or write down specific requirements. So that the salespersons can fully understand what you want before your orders are given to the tailors. If not, it is likely that you are not happy with their finished products.
On the other hand, it is easy to overspend as you are attracted by the latest fashions in the clothing catalogues. Like going shopping, you should decide how much you can spend on the clothing and stick to your budget. If you make preparations beforehand, you will find it easy to choose fabrics and select an appropriate tailor shop.
Visiting different tailor shops before choosing one
Each tailor shop offers the tailoring service at different prices due to the variation in skills of tailors, fabrics and ways of serving customers. You should walk around the town and visit various shops to know about their fabrics, prices and time frames in making finished products. In order to make a wise choice, you can ask for recommendations from receptionists, taxi drivers or other tourists who have experience with high-quality but cheap shops.
Do not forget to focus on little details- How to get cheap custom tailor in Hoi An
When you order them to sew your clothes. You should not focus only on styles but also on every single detail such as buttons, pockets, collars, and zippers. Even though they are obvious to you, ensure that the shops understand little details before you leave.
Bringing the clothing you love- How to get cheap custom tailor in Hoi An
It may be hard for travellers due to the limited space in their packs. However, this is the fastest way to have your clothes remade exactly in the same way with the original ones. Tailors in Hoi An will copy styles and sizes in different colours and/or fabrics. And you can receive the new clothing two days later.
Understand fabrics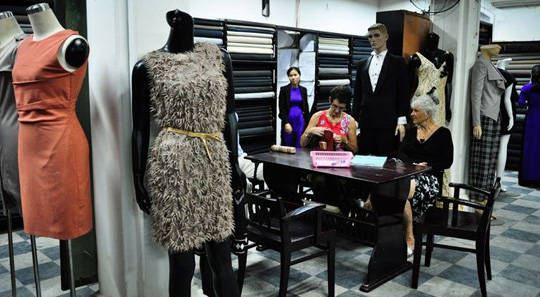 There are many types of fabrics that react differently to heat, moisture and pressure. Spend time researching fabrics at home and understand what types of fabrics are suitable for certain styles. If you are interested in any clothes online, make sure you check materials and write down on the back of pictures. You also can ask tailors for their advice if they can speak English.
Having enough time in the town for multiple ones- How to get cheap custom tailor in Hoi An
Shops can finish your clothes in one or two days, but chances of the item fitting perfectly in the first time you try are low. Therefore, make sure that you have enough time in the town. Tailors can do adjustments as you request. If you do not have an adequate amount of time, final products will not pleasure you. The best thing you can do is to spend your first day in the town searching for a tailor shop and making orders. Then you can visit other places before returning to take your clothing.
Stick to simple things- How to get cheap custom tailor in Hoi An
As a fashionista, you may be very excited about making unique clothing with your creative ideas. However, it is not a good idea to do it in Hoi An. They are used to sewing samples in the catalogues and simple clothes on display. You had better pick up one of the samples and make requirements on colours and fabrics. If you do it this way, it is unlikely that you will be disappointed at the finished products.

Getting clothes tailored in quick time at a cheap price is an amazing experience for every tourist in Hoi An. When you are on holiday in the town, do not forget to make it an unforgettable trip with the unique clothing.

326,253 total views, 57 views today

Tags: