Hoian Mama's Cooking Class- If you don't like to do a very touristic but a hand on cooking class with authentic food- try Hoian Mama home cooking class. This is a great opportunity to learn about Vietnamese cuisine and local culture. During your time with Mama, you will learn the secrets of traditional Vietnamese Cuisine in a friendly and warm atmosphere. At the end of the course, you will be able to cook wonderful Vietnamese meals for yourself, your family, friends, and partners. Hoian Mama Home Cooking Class is also a fun thing to do if you travel with kids. If you are not happy, we will refund money to you. Money back guarantees!
About Hoian Mama Home Cooking Class
Mama Nở (Flower, 1954) who is not a professional chef but passionate and has a large knowledge of Vietnamese cuisine and culture. Born in Hue ( food capital of Vietnam) and brought up in a traditional Hue way, she's a traditional Vietnamese lady who knows how to cook perfect Vietnamese dishes. After two decades of selling street food for the living, Mama decided to open her homey cooking school for travelers. She knows many recipe secrets that have handed down from her family generations. She is also a local host who cooked 300 meals for travelers every month. Mama is not a professional chef but cooking delicious and healthy food for the family, friends are her happiness. That is the reason why Mama would like to share with you a Vietnamese traditional meal at her 100 years old house. Join Hoian Mama Home Cooking Class, you will feel a real Vietnamese family's atmosphere.
Detailed program for Hoian Mama Home Cooking Class
All vegetarians are welcome with vegan ingredients.  
No market tour
Time: 8.30 AM 12.00 PM
Transportation: walking
MEETING POINT: Our office, 567 Hai Bà Trưng, Sơn Phong, Tp. Hội An, Quảng Nam, Vietnam ( Nearby Viet A Bank )
Duration: 3.30 hours
Group size: 8 people maximum. Minimum 2 pax
Weather condition: Tour takes place rain or shine
Note: Please advise any specific dietary requirements at a time of booking (For vegetarian, could you eat fish sauce?
Price: 19 USD/pax.
Child (Age 4 – 8): 10 USD/1 pax
Below 4 years old: FREE
Inclusions
All food we cooked (lunch)
Drinks: 1 welcome drink and 1 beer
All ingredients are included along with copies of the recipes in English.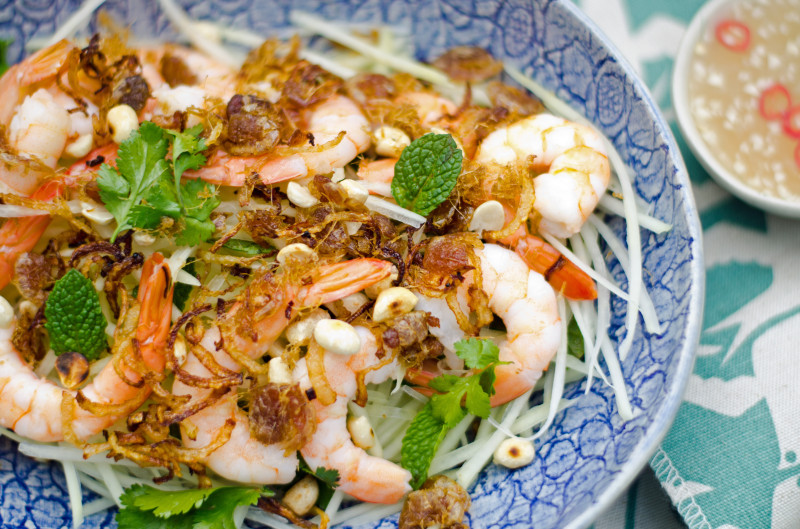 How to book Hoian Mama home cooking class?
Please use the BOOK NOW button on top, next to HOME button or email us to hoianfoodtour@gmail.com
Hotline: +84 979 58 77 44/ +84 976 128 977
Wechat/Whatsapp/Viber: +84 976 12 89 77
List Food of Hoian Mama home cooking class
Ram chien – Chicken Deep-fried spring rolls
Goi du du – Young Papaya Salad with Rice Cracker
Banh cuon – Vietnamese steamed rice rolls
Sweet sour fish soup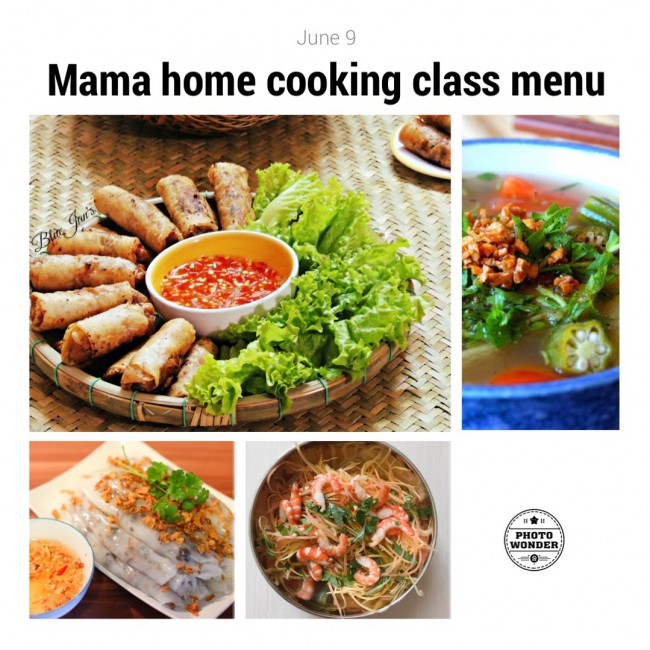 4,705 total views, 3 views today

Tags: hoi an cooking class