(What to do with kids in Da Nang) – Traveling with kids is no longer an obstacle to many travelers but how to travel comfortably and enjoy your trip the best with your kids is the problem. You know what? The key to having fun with your kids is always being prepared. Being prepared with information about destinations, food, activities,…So what activities to do with your kids if you are going to visit Da Nang? They are going to be listed below. Be patient to read till the end as they may be useful for you 😉
Than Tai Hot Spring Moutain Park
Kids are getting familiar with amusement parks around Da Nang, aren't they? Let's bring them to Than Tai Hot Spring Mountain Park. Somebody thought it's just for adults who love the spa and care their beauty. No! The park is so fun for a family. We can have a relaxing moment together in hot minerals, mud, herbal, tea. Boasting the ancient architectural styles of Hoi An and Japan, the park features outdoor and indoor hot spring bathing areas, a 4-star restaurant and hotel complex, an entertainment area for children, modern karaoke bars, spiritual tourism areas and other outdoor amusement areas. Than Tai Hot Spring Mountain Park is the gift of Nature mother and clever hands of the Human. So, kids will have fresh air and get closer to nature. They also provide food restaurants that kids have your favorite food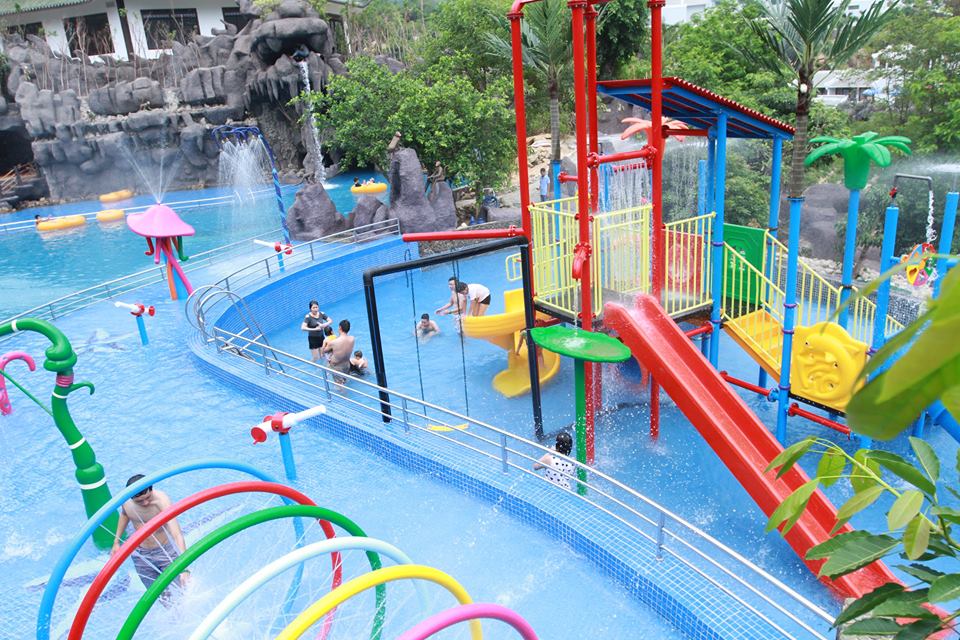 2. Kids with home cooking class
Kids could learn a lot during their traveling trip with the family, it's definitely better than reading many books on a room. And Da Nang is not Disneyland but kids can find their favorite playgrounds there as Asia Park, Helio, Fantasy Park…They also would play all day on beautiful beaches. They could not get bored during their trip for sure. However, a cooking class with local is more meaningful than above parks. The kid could open their eyes to the world, especially local life and local culture. Moreover, the home cooking class with Kaite gives them a chance to get closer to nature when they visit a green vegetable garden. They will also join the farmers in gardening activities such as raking the ground, sowing, watering greens, transplanting, and tending greens… It's so fun to practice what they are learning from the book. After that, a market visiting will help them to discover more things of a busy life and ingredients in their food. The funniest part is cooking class with Katie at her house. Katie is so sweet and patient with all their questions. All steps she makes clear and shows for each of generation in the family. How thoughtful she is! She also prepare small kid's kitchenware and lovely uniform for all kids. Joining a cooking class is definitely a amazing activity we should do when traveling with kids.
Da Nang Home Cooking Class: 39 USD/ 1 pax.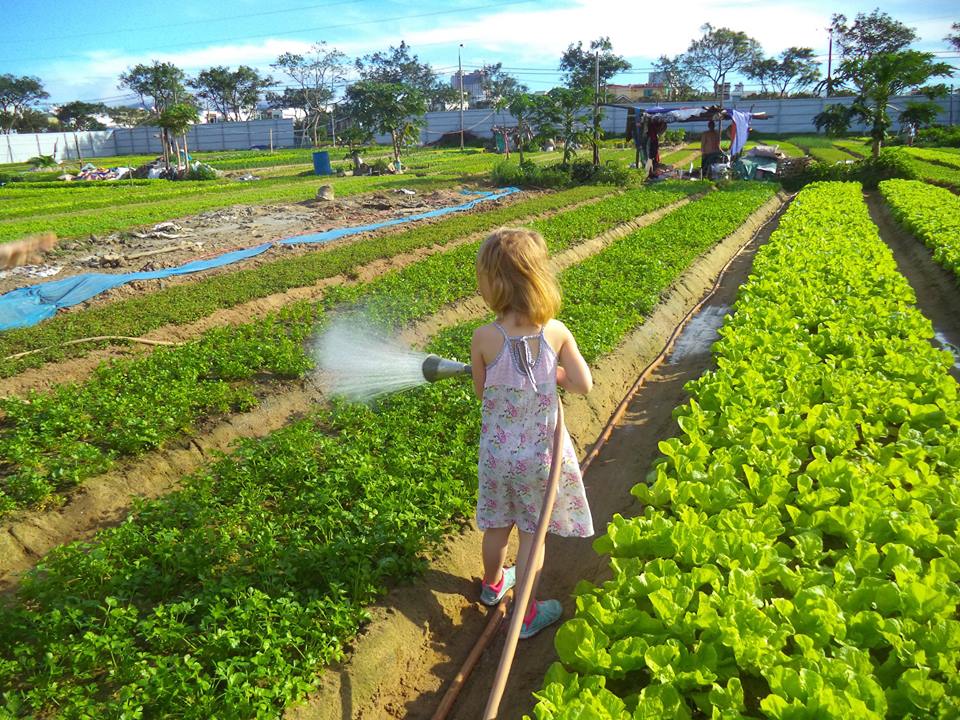 3. Asia Park
Asia Park is a new playground in Da Nang with international scale and standard. This is a good place to explore various types of fascinating rides and attractions themed distinctively around several Asian Countries. It is divided into three sections: Central Zone, Cultural Park, and dining area.
Central Zone is considered as a magical garden to welcome visitors to a wonderful world of culture and colorful entertainment. It includes the marvels of architectural works such as: Sun Wheel, Monorail, The Great Gate, The Clock Tower, Dragon Boats and Buddha Statue…
Like a mini Asia, Cultural Park includes works of architecture, landscape, cultural, art activities and unique cuisine of 10 Asian countries: Japan, Indonesia, Singapore, South Korea, India, Nepal, Thailand, Cambodia, China, and Vietnam.
In the dining area, you can experience an authentic Asia Cuisine in a unique cultural space.
This is a good place to hang out with your kids and let them have fun.
Add: No. 01 Phan Dang Luu Street, Hai Chau District, Da Nang City,
Opening time: Monday – Sunday from 16:00 – 23:00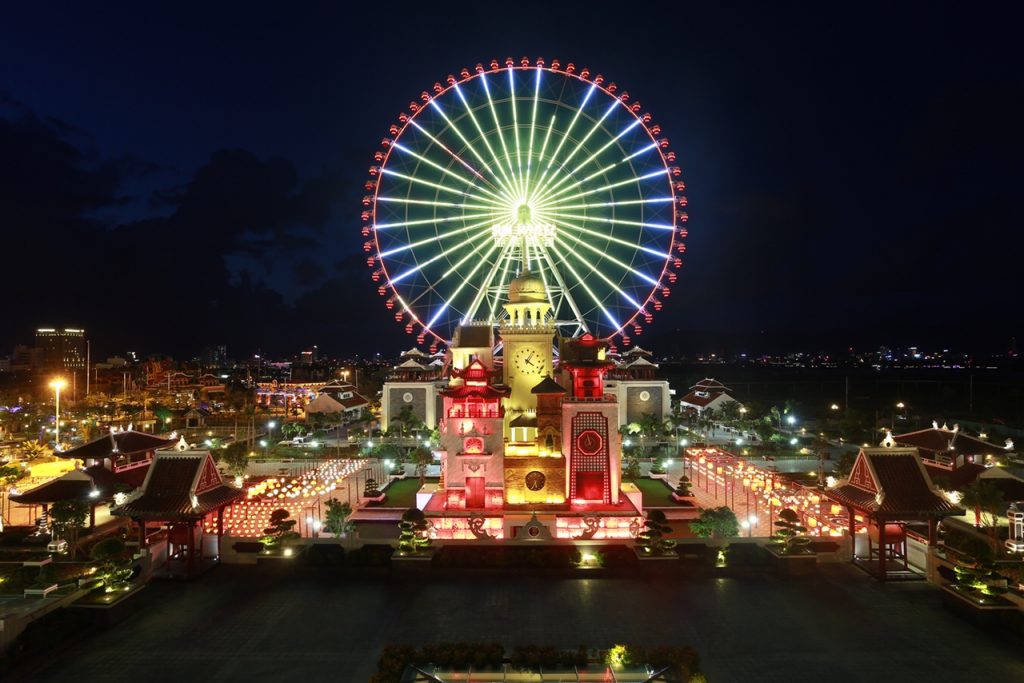 6. My Khe beach.
Da Nang is famous for being known as a city which is both near the beach and close to mountains. It is divided into different parts with different names stretching from the foot of Hai Van pass to Hoi An. Among them, My Khe beach is the most beautiful one with smooth white beautiful sand and a slight slope with large space. This 9 km long beach is very suitable for many activities with your kids: swimming, strolling, sunbathing, building sand castles,…or just sitting by the shore contemplating the sunrise or sunset. That will be such a great day!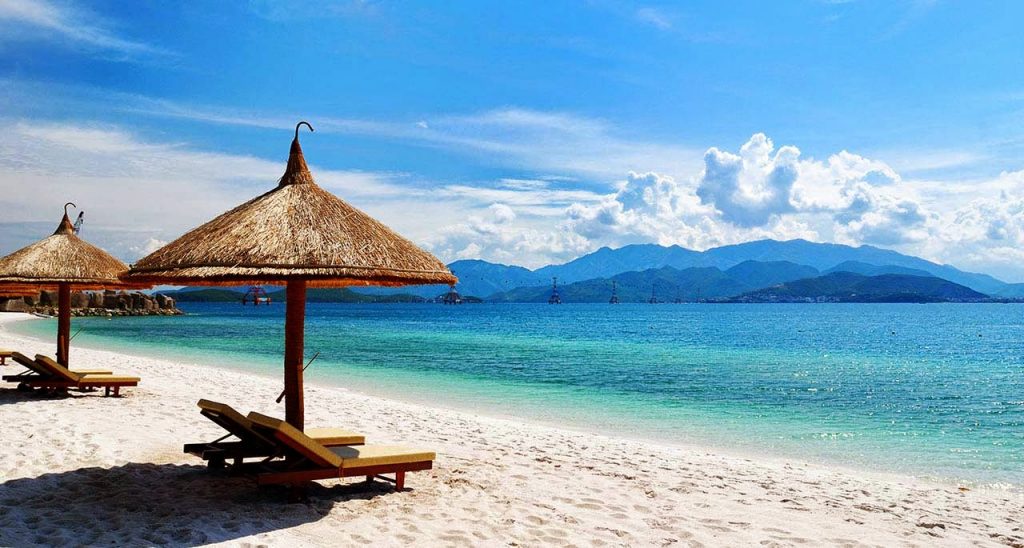 7. Ba Na Hills
About 42 km west of Da Nang is a stunning mountain resort called Ba Na Hills. It is a tourist attraction at an altitude of 1487 meters. Found in the 1920s by the French colonists, Ba Na hills was designed following European architecture. The weather here is comfortably cool all year around. With its highest and longest (over 5 km long) cable car in the world, Ba Na offers you fantastic views of the surrounding area as well as spectacular view overlooking Da Nang's Bay and the Lao mountain range.
Ba Na is perfect place for families with a replica European castle, and a spectacular underground amusement park carved into the mountain featuring many types of rides. Nearby is the Linh Ung Pagoda with a 27 – meter tall white Buddha statue overlooking the clouds and mist of Ba Na Hills, visible for miles around. Your children will have a lot of fun playing around in the Fantasy Park with a variety of video games, a carnival of rides and activities ranging from air hockey to rock climbing and a wax showroom. This is the perfect playground for your children.
 8. Dragon Bridge
Built in 2013, this new bridge with the shape of a giant dragon is now a tourist attraction. What makes this bridge stand out is the marvelous architecture and design of a beautiful yellow dragon shape. What's more, the head of this bridge can breathe fire and spout water every weekend night at 9 p.m, which is a must to watch. Your kids will be very excited to contemplate the beauty of the Dragon Bridge as well as watching its performance with fire and water. The tip is: go about 30 minutes early to find a good place to watch the performance since it will be very crowded.
Near the bridge, there is a statue of "Carp transforming into Dragon" and a Bridge of Love, which is also very interesting to see.
9. Marble Mountains
If your family is adventurous, love exercises and love nature, Marble Mountains is a good place to spend a couple of hours out. The "mountains" are actually a series of five marble and limestone hills with the following names: Fire, Water, Earth, Metal, and Wood. The Metal Mountain is the only one you can visit with plenty of caves and grottos, some made into pagodas. To visit this place, you need a ticket which costs 15,000 VND/person. Your children then can freely discover around.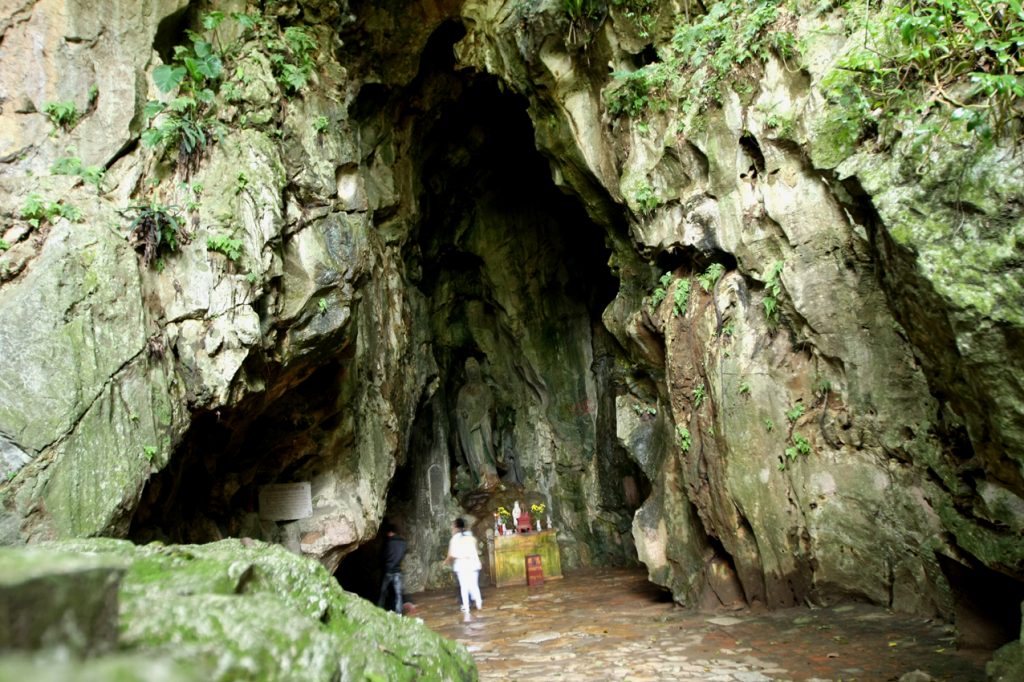 10. Hoi An ancient city
Just about 30 km from Da Nang center to the south, Hoi An appears sparkling at night with many colored and beautiful lanterns hung up along with ancient houses. This town is a mixture of Chinese, Japanese and French architecture with its 400 year old history. Beside its ancient beauty, Hoi An is also well known with its unique cuisine. Make sure you let your kids try some of the best Hoi An local food such as cao lau – Hoi An secret noodle, white rose (Hoi An dumpling cakes) or the best banh mi in Vietnam recommended by Anthony Bourdain.
Around town, there are some traditional games which may be interesting to you and your children like Bai choi – Hoi An bingo game or Dap nieu – Blindfolded hit the pot. These games are just available at nights so make sure you spend at least an hour here after dark.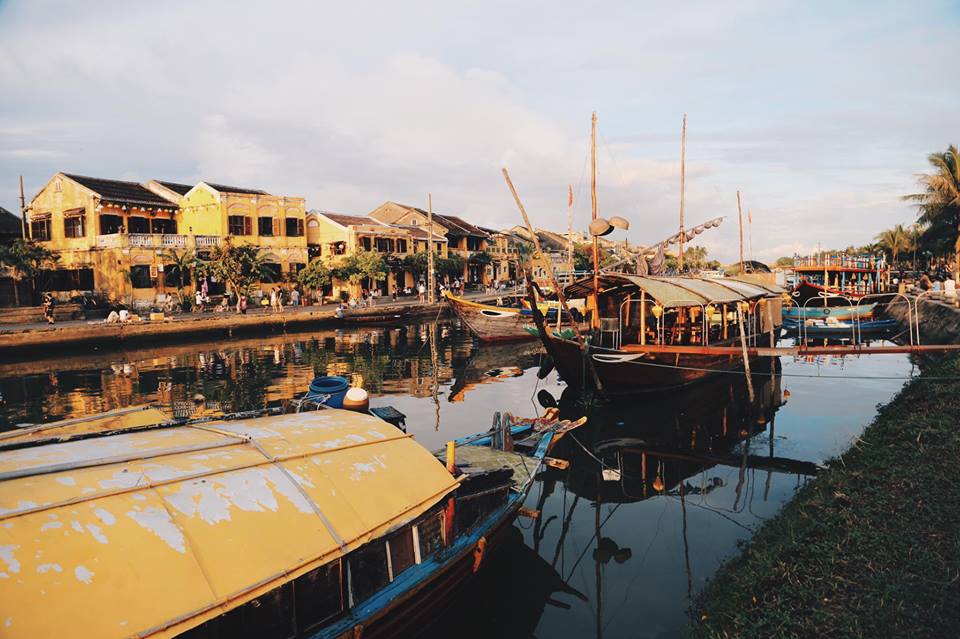 11. Linh Ung pagoda
Situated on Son Tra peninsula, Linh Ung pagoda is the biggest pagoda in Da Nang with a huge white statue of Lady Buddha which is 67m in height. From this pagoda, you can have beautiful scenes of Da Nang city along with the beach, the sea and the sky, which is marvelous. There is a huge yard in front of the main building. Your children can be sated with pleasure running around and have fun while you are contemplating the beauty of the pagoda.
12. Food Tour
Last but not least, how do you think about a food tour in Da Nang? If you and your kids are foodies and adventurous, why don't you join a motorbike food tour? The guides are friendly, enthusiastic and knowledgeable. They all love kids. You sure will have great memories during your stay in Da Nang touring around with them on scooters and enjoying Da Nang local food. If you are not adventurous enough to try sitting behind the guides on the scooters, take the car option. More information at Da Nang Food Tour
Enjoy your time in Da Nang and don't forget to share your experience with us! 😉
203,501 total views, 2 views today